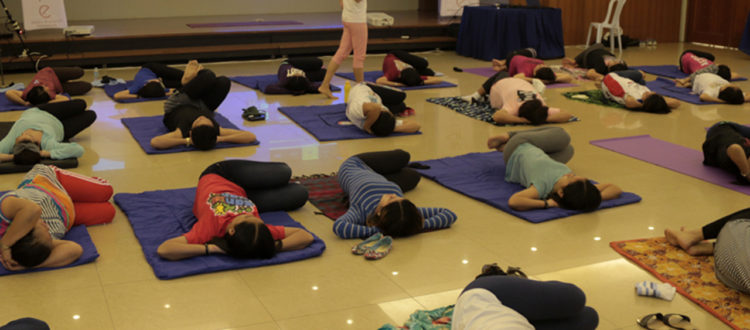 Civil Service Month Celebration with SIFCare
The Provincial Government of La Union headed by Governor Francisco Emmanuel "Pacoy" R. Ortega III is currently having a month-long celebration of Civil Service Month for their employees. This is a yearly event but Tessa Feraren, Head of the PGLU Human Resource Department, thought that this year's celebration should be new and different. She wanted to help the civil servants deal with the stress at work and negativity in social media that they go through on a daily basis. She also wanted those who were mothers to learn new ways to entice their children to eat more vegetables. She had heard that food at SIFCare events were very delicious and healthy.
With this in mind, Tessa asked Khristine Tamayo, a SIFCare member, to be a Learning Service Provider (LSP) during their celebration. Khristine is a Certified Veda Yoga Instructor ad Plant-based Professional from the Rouxbe Culinary School.
Today, at the Provincial Capitol of La Union, Khristine taught the civil servants: Yoga Asana, Meditation, the science of identity, and Nutrition. She also conducted a cooking demo with plant-based ingredients.
At the conclusion of the event, Tessa Feraren along with the participants were happily expressing how they had learned that yoga is not just good for the body but also for the mind and soul. They were amazed with the advantages of vegetarian cooking and eating right. There was a clamour for "More yoga!" One participant said that during the meditation, she felt like she was "in Heaven."
Tess Feraren thanked SIFCare for sharing with them so much. She said that if they all could share what they learned from SIFCare with others then so many lives could be saved.
They are looking forward to the culminating activity next week – September 29 – when they will learn some Tai Chi and Qi Kung from Ramon Tamayo, SIFCare Project Manager. Tessa said, "It's something new and different. I know there will be a very positive outcome."
We, at SIFCare, always appreciate working with servant leaders like Gov. "Pacoy" and Tessa who care about giving their employees and constituents an over-all health package. With servant leadership, everyone wins.