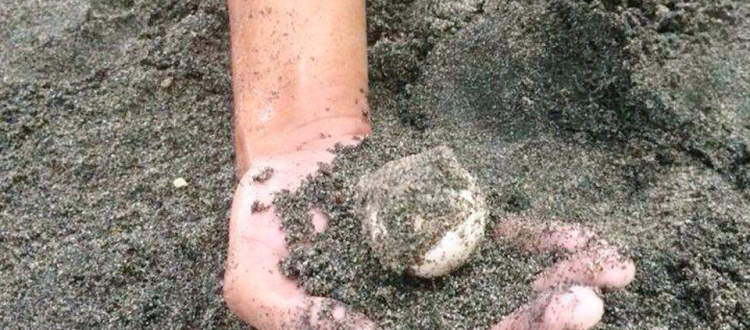 CURMA 2016-2017 Pawikan Season Begins
It's Pawikan Season (2016 – 2017)!
Pawikan nesting season is in full swing in San Juan, La Union. Fisherman, Roladin Cabagbag, found sea turtle tracks in the early morning of October 10th 2016 and discovered that a mother pawikan came ashore to lay eggs on the coast of Taboc. A total of 95 sea turtle eggs were relocated to the CURMA hatchery where they will be safe from poachers and predators like birds, crabs and feral animals. Under the close supervision of trained CURMA volunteers, the eggs are expected to hatch after 45-70 days of incubation. Local residents of San Juan, some of whom are former egg poachers, work closely with SIFCare to protect sea turtle nests such as the one found by Roladin.
The beach in San Juan La Union has been the most active nesting area and an important homeland for Olive Ridley sea turtles for many years. Olive Ridley is listed as endangered which means they face a very high risk of extinction. Every year, CURMA volunteers come together to make sure that baby turtles hatch and make their way to the open sea.  As
soon as nesting season begins, CURMA volunteers meet at 2 am every morning to patrol the coastal stretch of San Juan, searching for sea turtle egg chambers.  They also make sure that rules of conduct are being observed when a nest is found.
For 5 years now, CURMA has been actively protecting sea turtle nests along the shores of San Juan with great success, but every year, new threats to the survival of sea turtles mount due to global warming, coupled with human interference such as marine pollution.  To combat poaching, more volunteer effort is always welcome. Interested individuals and groups may contact SIFCare through info@sifcare.org. Join CURMA volunteers as they prepare to welcome these gentle creatures of the sea for another season!