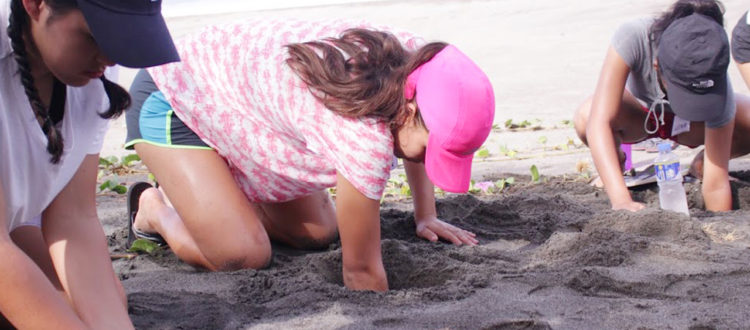 CURMA Sea Turtle Conservation Awareness Reaches International
Fifteen (15) students and faculty members from the German-Swiss International School came to SIFCare-CURMA in La Union to learn Basic Sea Turtle Conservation last October 17, 2017. This is the 4th group the @internationalschoolsurfclub (ISSC) has brought to SIFCare.
One of CURMA's experienced volunteer, Mr. Patrick Andrada, welcomed the guests and gave a brief orientation about the workshop. The participants were engrossed about learning sea turtle biology, their importance in marine ecosystem, nesting behaviors, threats and the work being done to protect them. Learning was made fun through visual presentations and hands on activities like digging a simulated egg chamber. It was especially fun and exciting when the group was divided into two and asked to complete an engaging task. Each group took part in a simulation activity where they learned about identifying the up and down tracks of mother sea turtle through the models that were artificially made on the beach. They also simulated the process of locating eggs, nest counts and nest relocation using ping pong balls to represent sea turtle eggs. In the end, the two groups were both successful in completing their task.
Other important topics were discussed like how human activities imperil the population of these keystone species and other information about the health of our oceans. The discussion came up with shared thoughts on the importance of collective actions of different countries and cultures to increase the status of sea turtle conservation. After the workshop, the participants said they will go back to their school with an increased awareness and responsibility on how they can protect sea turtles in their own simple ways.