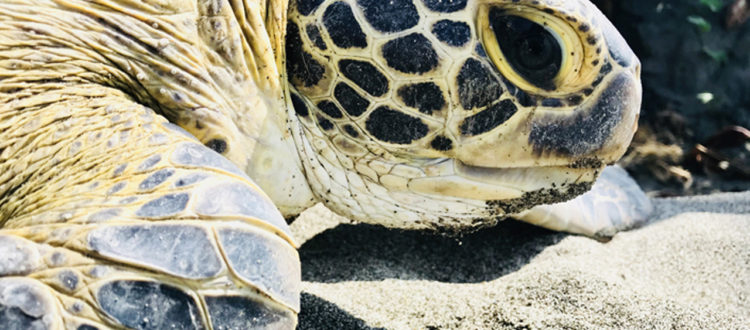 CURMA Releases 2nd Rescued Sea Turtle
A female green sea turtle was recently released by CURMA last October 24. She was found and rescued by a fisherman in Taboc, San Juan, La Union.
The sea turtle was accidentally entangled in his fishing net, and the local fisherman reported the incident to CURMA immediately. The rescued sea turtle had a stunningly beautiful shell, and measured 57 cm long and 54 cm wide. After checking her medical condition, she was tagged PH 1622-I and released back into the water by CURMA volunteers.
The population of sea turtles around the world has been seriously impacted due to human activities such as accidental by-catch and sea turtles often die in the process.
The International Union for Conservation of Nature and Natural Resources (IUCN) lists the green sea turtle (Chelonia mydas) as endangered. And although trading turtles are illegal, these sea creatures continue to be slaughtered for its meat, shells and eggs.
CURMA has been relentless in reminding everyone that we need to ensure these sea turtles thrive in order to maintain healthy oceans, so that we too, can thrive.
In addition, those who work in the seas should practice caution in fishing or boating as sea turtles swim at or below the surface in coastal and inland waters especially during pawikan season (September to March).
CURMA appeals to the local community that if they find entangled turtles or sea turtle nests to report them at hotlines 0923 429 8611 or 0933 933 2833.