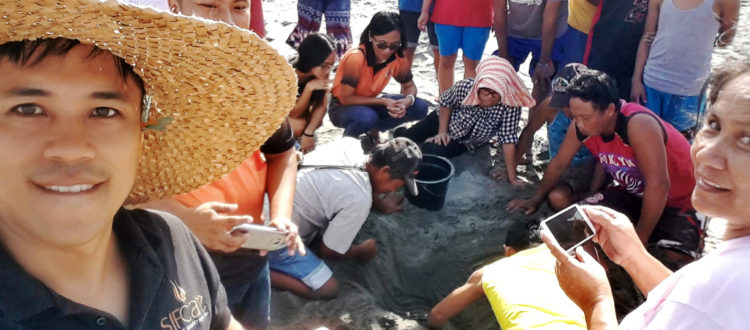 CURMA's 2nd Nest in 4 Days Found in Bacnotan
Another chilly January morning brought in another turtle nest, in the quiet cove dividing Tammocalao and Cabarsican in Bacnotan, La Union which was the second nest in the last four days. The high surf this morning helped the mother turtles make their way up the beach to lay their eggs.
Representatives from both barangays, D.E.N.R, Bacnotan and the PNP came to grace the natural wonder. To their surprise, we got everyone including the locals and tourists to help transfer the nest to safer grounds. Everyone was taught how to handle the turtle eggs and keep the same orientation of the egg, as laid by the mother. We take great care to recreate the exact same way the turtle eggs are laid.
With an increasing number of nests found in this area, we talked to the home owners nearby and found them enthusiastically eager to help the conservation cause. We were able to identify a new area for a local hatchery, in front of the house of Rosemarie Ortiz and Marvin Hall. They are now the happy foster parents of an Olive Ridley turtle nest. They have put efforts into maintaining a clean beach and have been looking for more ways to help conserve and preserve our environment. Being able to adopt a turtle nest and having a turtle hatchery was a welcome surprise to them.
And thus ends another day at CURMA, another day, another nest.