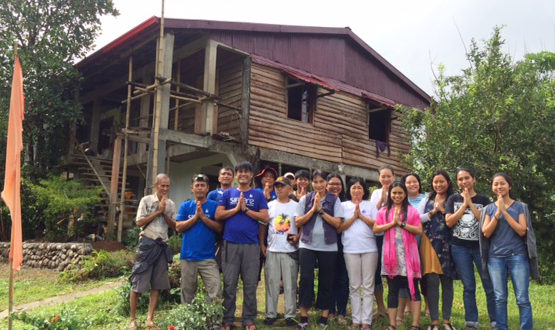 Free Acupuncture Treatment and Wellness Tips to Lucban Residents
Over 100 residents from Lucban, Quezon were able to experience care in action from the SIFCare volunteers during a two-day Health and Wellness Outreach Mission last October 14-15, 2017.
The outreach mission held at the Marcos Tigla Park provided free acupuncture treatment to 89 residents on the first day, while 15 participants learned new ways to keep their bodies healthy through a health and wellness workshop on the second day, held at the Aji Obmerga Eco Farm in Barangay Kulapi.
This is the second time that SIFCare conducted a health and wellness outreach mission in the town, and Lucban Mayor Oli Dator expressed his gratitude to the volunteers.
"Kayo lang ang inaantay namin dito sa Lucban. SIFCare you are welcome here anytime," he said.
The health and wellness program included plant-based cooking demo, yoga asanas exercise, guided relaxation, and a seminar on diet and nutrition.
The acupuncture treatment was conducted with the assistance from the National Acupuncture Detoxification Association (NADA) Philippines who provided ear acupuncture and counseling.
Again, we are very thankful to Lucban residents and to Mayor Oli Dator for their warm welcome. We are always happy to extend our selfless service and compassion to your town.