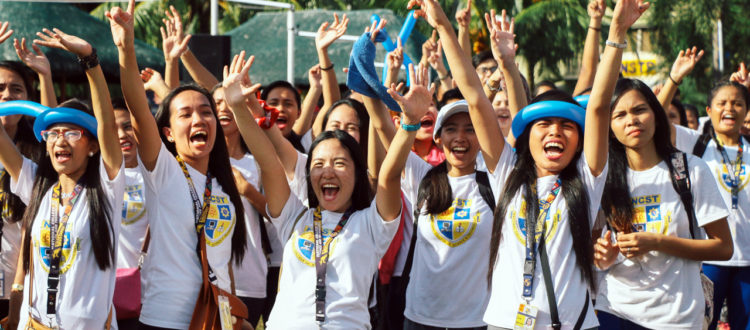 Sharing the Gift of Yoga at NCST
Dasmarinas, Cavite – Volunteers from the Science of Identity Foundation Community Assistance for Responsible Existence (SIFCare) were up bright and early on September 27, 2017 to share the "Gift of Yoga" to about 2000 students of the National College of Science and Technology (NCST). The festive gathering was organized in celebration of the college's 19th Founding Anniversary and was televised in a local morning show called, "Umagang Kay Ganda" (translated as Beautiful Morning).
One of the most important benefits of the regular practice of yoga is that it leads one on a path to ultimately achieving inner peace and happiness. This is why yoga, in its many forms, is one of the many advocacies of SIFCare under its program called, "SIYAM," which stands for Seminars, Immersion, Yoga, Arts & Meditation. For the NCST students and faculty, SIFCare started off their event with hatha yoga asanas and ended it with fun and lively mantra meditation.
"On behalf of the NCST, we would like to thank you for joining us, SIFCare," said NCST president and CEO Mr. Emerson Atanasio, "It is perfect timing because we want to have harmony within us and harmony for the entire country as we experience conflicts in different areas. It is timely for us to have peace first with ourselves, then second, for the entire country. We are one with SIFCare and we hope we can continuously work together for the entire country."