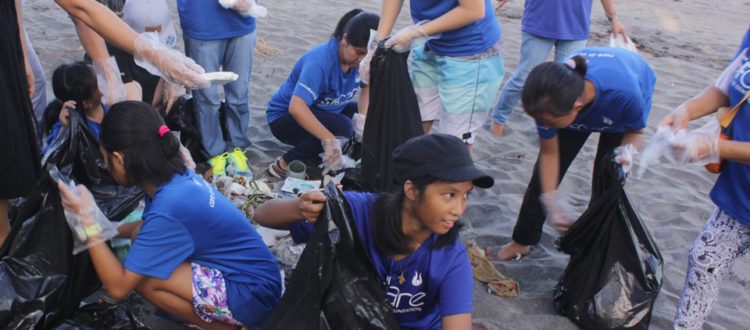 13,000 kg of Trash Collected at La Union International Coastal Cleanup Day
SIFCare La Union wishes to thank and congratulate all the volunteers who made this year's International Coastal Cleanup (ICC) Day another great success. SIFCare has been actively supporting coastal clean-ups from its grassroots beginning with 500 volunteers. Under SIFCare's coordination with ICC-Philippines and with the help of other agencies/groups like Philippine Coast Guard, DepEd, DENR, LGU's, PNP, youth organizations, environmental organizations, private citizens and business communities, La Union has made a name in ICC when it rose to 4th place in 2015 among other provinces in terms of volunteers turn out.
Once again, this year, La Union had come together for one cause and it was a remarkable feat. Armed with gloves, bags, buckets, stick and steward spirit, more than 10,000 volunteers from all ages throughout La Union participated to clean more than 40 sites including shoreline and inland locations. Nearly 13, 000 kilograms of trash were collected in this one day activity. The most common items found were cigarette butts, food wrappers, plastic bottles and caps, straws, grocery bags and beverage cans.
On top of creating a cleaner environment, all of the items that were picked up are recorded to raise even more awareness about the marine debris problem. This year, SIFCare partnered with LORMA Colleges to do the tallying and encoding of trash collected by volunteers.
ICC is a great way for people to come together not only to get rid of trash, but to educate people on how it impacts our environment. During the preparation for ICC, SIFCare conducted an Intensive Educational Campaign in various schools, LGU's and other stakeholders. Through this, SIFCare was able to tackle this enormous and growing problem and inspire action in support of our ocean and environment as a whole. Aside from impact to human health and local economy, trash poses threat to the health of wildlife. The coast areas of La Union are areas of special biological significance and are convenient nesting sites for endangered sea turtles or pawikan. Sea turtles mistake plastic bags in the water and on the shore for jellyfish, one of their favourite foods. This can choke and poison them. Sea turtles are called keystone species in recognition of their role to sustain the health, productivity and biodiversity of marine ecosystems. This is the reason why beach and river clean-ups are vital to keep our marine environment clean and healthy.
ICC Day is officially celebrated every 3rd Saturday of September, but SIFCare hopes that our concern for the ocean's health will not be limited to that day and to beach clean-ups alone. SIFCare calls for everyone to live a life guided by compassionate and kind principles, as a steward respectfully taking care of all God's creations including this planet and all of its inhabitants.