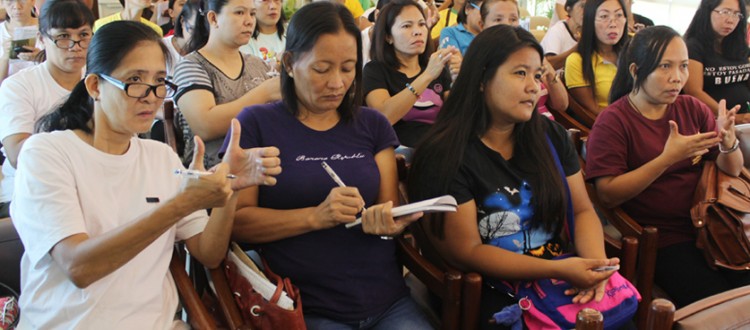 International Women's Month Celebration
In celebration of the International Women's Month, LORMA Medical Center conducted a symposium at the Heliport Conference Room last March 17, 2016. LORMA Marketing Director, Ms. Teresita Klug, invited resource speakers from SIFCare.
Mrs. Socorro Bismark spoke on "Women and Education" and shared insightful quotations in relation to the topic. "Knowledge is like a garden, if you don't cultivate it, you cannot harvest it." "Spiritual knowledge is unlimited, and the arts to be learned are many. The time we have is short and our opportunities to learn are beset with obstacles. Therefore, select for learning that which is most important, just as the swan drinks only the milk in water."
The relationship of women and health was tackled by Mrs. Marissa Tamayo, with a focus on the application of herbal medicines and acupressure in the home. She shared the benefits of siling labuyo, balbas pusa and takip kuhol and discussed acupressure points for any kind of pain, cough, colds, high blood, headache, etc.
The last speaker from SIFCare was Mrs. Milagros Celeste who discussed women's roles in the development of the community, women empowerment and the equality of men and women.
LORMA Community Development Foundation, Inc. (LCDFI) Executive Director, Mrs. Antoinette S. Tejano, also introduced the "Cacao and Cashew for Every Home" project and gave cacao seedlings for 45 BNS (Barangay Nutrition Scholars) of San Fernando City, La Union.
At the end of the program, LORMA presented certificates of appreciation to SIFCare and its speakers for sharing their insight and knowledge to all participants.