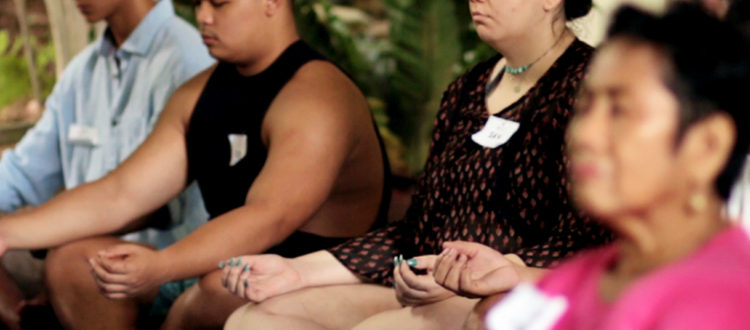 A Day of Music Meditation at the Farm
Forty-three (43) individuals took a break from a busy week to attend a Healing Sound Meditation offered by SIFCare under its SIYAM (Seminars, Immersion, Yoga, Arts and Meditation) Program, last December 2, 2017. It was held at the pristine and tranquil, Lotus Valley Farm in La Union – a sanctuary for meditators and an ideal place for peaceful contemplation and deepening of insight. Here, the participants had the opportunity to relax and relieve their stress while being surrounded by the beauty of a forest environment.
The 3-hour activity started off with a Farm Tour led by Mr. Toby Tamayo – the owner of the farm and a longtime meditation practioner himself. Participants were toured around an organic farm and garden, and given inputs on organic cultivation, beekeeping, bamboo, edible plants, etc and our natural role in this world.
Simple Qi gong movements and breathing techniques were taught to the participants which they found very refreshing and energizing. It was followed by a seated guided meditation proceeded by a beautiful yoga sound meditation. This method of meditation aims to bring peace and harmony into our lives to cope with an increasingly hectic world. The practice ended with a Savasana or corpse pose which helps counteract stress and promote relaxation. The participants, who were mostly students and teachers expressed how grateful they are for being invited to the activity.
Lucille, a retired teacher said, "thank you for the beautiful experience and very warm reception. I hope to attend again."
"I will definitely come next time. It was a very pleasant experience," uttered by Mikel, a DLSU student, while Cristeta Gappi, a school principal said, "thank you very much for the nice experience".