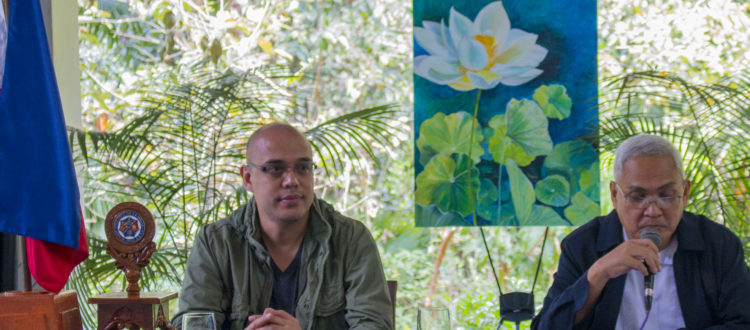 Sangguniang Panlalawigan (Provincial Council) of La Union Holds Session at Lotus Valley Rainforest Farm w/ SIFCare
The Sangguniang Panlalawigan of La Union visited the Lotus Valley Rainforest Farm last February 8, 2018 to hold its 84th regular Session and to experience the serenity and solitude of the valley. The government officials were headed by Gov. Emmanuel "Pacoy" R. Ortega III and Vice-Governor Aureo Augusto Q. Nisce. They were received by SIFCare (the humanitarian and community development arm of Science of Identity Foundation) led by its Program Development Officer Mr. Ramon "Toby" L. Tamayo, who is also the Provincial Government of La Union (PGLU) consultant for Sustainable Apiculture, Agriculture and Natural Resources. The Lotus Valley Rainforest Farm was developed by Mr. Tamayo and SIFCare in their dedication to develop and implement responsible and sustainable practices in protecting the environment and natural resources.
In line with the PGLU's goal towards ecology and agricultural tourism of becoming the Agri-Tourism Center of the North, the provincial government is embarking in improving the environment by rehabilitating the watersheds and mangrove forest. In his talk, Mr. Tamayo was able to explain the approach to community resiliency to climate change and was able to present the thrust towards environment rehabilitation and restoration as a major factor to consider. This is through his model farm and sustainable practices he sets forward to mitigate climate change and improve food security systems including both production and consumption, from a holistic perspective.
Before the session, Mr. Tamayo guided the board members to an informative farm tour showcasing the organic farm and the lush, verdant green rainforest which play host to a wide array of native trees, unique plants, rainforest birds and insects. Upon entering the farm, the officials were greeted by the ambiance of the valley and the beauty of towering indigenous forest trees. As they took a gentle stroll through the diverse natural surroundings, they saw for themselves sacred lotus flowers blooming in the pond. They also learned about the food crops that are being produced in the valley like fruits, grains, legumes, high value vegetables such as arugula, lettuce, basil etc. The farm also showcased their heirloom rice like Asian pearl rice which is due for harvest this season. The visiting officials marveled over the farm's collection of different varieties of bamboo like black, giant, buddha's belly, green, golden bamboo and how these were all combined to build an impressive bamboo kubo or native houses which could withstand the strongest winds from typhoons. Those bamboo houses also feature a unique nature theme and hand-crafted furniture.
After the regular session, the government officials and their staff, secretariat and police officers were treated to a fresh, wholesome and healthy plant-based food which the farm produces. They were served organic black rice, coco lasagna, laing, thai salad, tofu seaweed tempura, vegan barbeque, vegetable fritters, buko and mango tart for desserts. They also savored locally grown herbal drinks like ginger-forest tea, currypatta with calamansi tea and vishnukanta with pandan blue drink.
The regular session closed off with the members of Sangguniang Panlalawigan full of appreciation of what was presented and offered to them by SIFCare at the Lotus Valley Rainforest Farm.