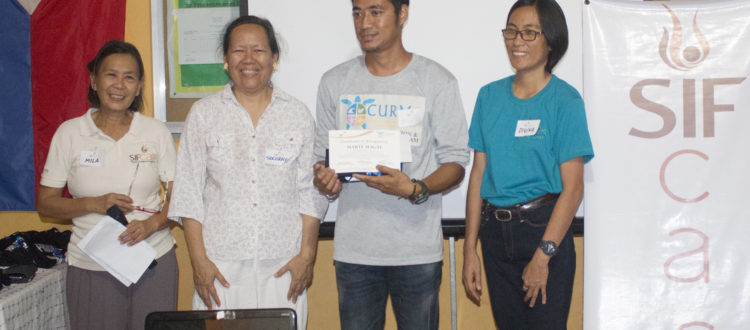 SIFCare-CURMA Gives Recognition to Volunteer Patrollers
In celebration of Earth Day last April 22, 2018, SIFCare and CURMA marked the end of the 2017-2018 nesting season of the sea turtles by expressing their gratitude for the selfless service of local patrollers of San Juan and Bacnotan, La Union. An awarding ceremony was held at the Cabarsican Brgy Hall in the beautiful coastal town of Bacnotan. For this season, nests were protected with a total of 2,497 eggs and 1,927 hatchlings, coming from San Juan and Bacnotan.
Certificates of recognition, as well as CURMA shirts and rewards, were distributed to all those who turned over pawikan nests during the season from October to April. The awardees were:
First Prize: Marte Magat who found 8 nests from Bacnotan and took care of them in his own little hatchery.
Second Prize: Johnny Manglugay who found 6 nests from Taboc, San Juan
Third Prize: Dionesio Ragpala who found 3 nests from Tammocalao, Bacnotan
Special Award: Rolando Inigo as a Pioneer Patroller and for sharing his knowledge to other would be conservationists
Honorable mention: Rolando Abuan, Brendon Esmao, Reynaldo Gaudia, Elorde Nonesa, Jun Padua, Felipe Pascua, Benjamin Pineda Sr.
The business group and the leaders of the Bacnotan LGU likewise showed their support for CURMA by sponsoring all the rewards given: LGU Bacnotan, Kayu, Greenery Kitchen, Urbiz Garden, Flotsam and Jetsam Hostel, Choka Restaurant and El Union Café.
Each individual's effort was greatly appreciated by the SIFCare leaders and local officials. This event was graced by the presence of the Bacnotan Municipal Agriculture Officer Dr. Divina Gracia Apigo , San Juan BFAR coordinator Ms. Margie Santiago, and DENR I representative Omar Ali.