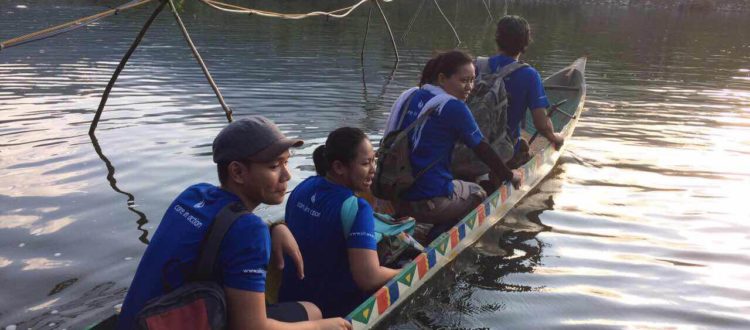 SIFCare's Ridge-to-River Cleanup for Earth Day 2017
What better way to celebrate Earth Day than to be in the midst of its majestic mountains, lush forests and crystal clear rivers? Twenty volunteers from Manila and Cavite travelled to find out for themselves in Daraitan, Tanay on April 22-23, 2017. Graciously hosted at the Vaikuntha farm, our volunteers were introduced on the first day to what it truly means to go back to basics and appreciate the bounty and resources that Mother Earth provides to all of us unselfishly.
As a way of giving back to her, the volunteers rose at the crack of dawn the next day to meet with the local volunteers for the river cleanup at the Daraitan Barangay Hall. Riding on colorful tribal boats across the river, they were warmly welcomed by 200 locals composed of housewives, tour guides, the elderly, local government employees including high-school teachers, DSWD personnel, barangay tanods and the barangay captain himself.
An orientation was then led by SIFCare volunteer Shai Tamayo who gave everyone a brief introduction to SIFCare and our causes. Everyone was aptly reminded that it is each and everyone's responsibility to care for Mother Earth who gives us life and without whom, we will not be provided for and that it is the responsibility of the locals or caretakers of the area to educate tourists about this and how to do so properly. Municipal Environment and Natural Resources Office (MENRO) Head Engineer, Carlos Inofre Jr., emphasized on the fact that eco-tourism is good only if we keep the place as is and in its natural state. Visitors would not want to be welcomed by seeing their area thrashed and exploited. The orientation ended with Daraitan Barangay Captain saying a few words on how grateful he is towards SIFCare, all volunteers and their efforts to keep his beloved Tanay beautiful.
That day, Daraitan could not have been more beautiful with the newly-cleaned Tinipak river and the happy, contented faces of our volunteers for having practiced care in action yet once again.
Til our next adventure!