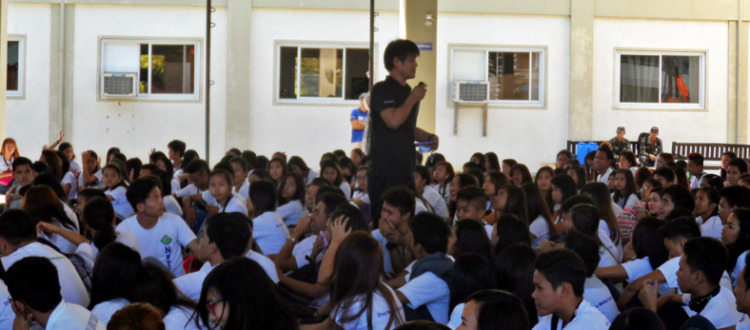 Servant Leadership, Volunteerism Seminar Conducted by SIFCare
With commitment to help in the development of enlightened, happy individuals and communities by cultivating wisdom, love and compassion, SIFCare members conducted a seminar on Servant Leadership and Volunteerism to the more than 1,700 Cavite State University-Silang NSTP students, facilitators and coordinator.
The SIFCare members encouraged participants to practice servant leadership at home, school, and community, explained the concept of volunteerism and its role; and discussed the SIFCare Mission, Vision, Goals, Basic Principles and Programs and Projects in Cavite that the large audience can join as either participants or volunteers.
The following are some of the insights that the speakers shared:
Service is the constant companion of the living being and that serving God is the eternal function of a person.
A servant leader has the S.E.R.V.A.N.T. characteristics: Selfless, Empathetic, Resolute, Virtuous, Authentic, Needful and Thorough.
The role of a volunteer is T.E.A.C.H.E.R. Time manager; Extension of the organization's mission and vision; Assistant to teammates, organizers and administrators; Caretaker of people and Mother Earth; Health proponent; Example in action and in deed; and Responsible worker.
One of the young SIFCare volunteers imparted her exciting and fulfilling experiences in teaching children with fun and games, in assisting GOPALAKAS program in different elementary schools in Silang, in helping the CURMA project in La Union and in joining in the Coastal and River Clean-up.
The audience became more excited and some sung together with the selected SIFCare members. These two were the audience favorite parts: "I want to be friends with you, I want to be friends with them" and "Kung gusto mong malaman, Mag-volunteer ka na sa SIFCare; Nang 'di ka mailto, At mawala ang attitude mong "I don't care."
This seminar on Servant Leadership and Volunteerism is intended to begin and/or strengthen the partnership of SIFCare and educational institutions in serving Father God and His children and in helping humanity take care of Mother Nature.