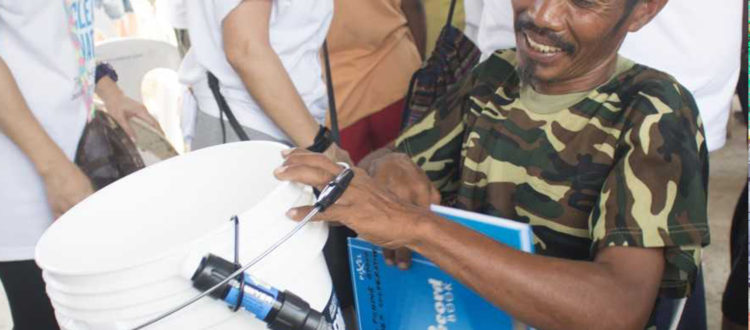 SIFCare, Bauang Municipality, Waves for Water and Aveda Team Up for Clean Water
Everyone has the right to have access to clean water. SIFCare, in partnership with the Bauang Municipality, Waves for Water Organization and Aveda, came together last April 23, 2018  to promote the conservation of water and to ensure the health of the local communities. A total of 108 families who live alongside the mangrove coast of Bararangays Parian Oeste and Pudoc received 22 units of an innovative water treatment device called the Sawyer Pointoine Filter, which can instantly transform any fresh water from rivers, wells or rain into safe drinking water.
Waves for Water is an NGO with the aim is to provide clean water to needy communities by importing and distributing the Sawyer water treatment device for free. Volunteers from Waves for Water first demonstrated to the residents how to use the device. Then, team leaders from each community were asked to assemble their own units, assisted by members of the Aveda group. The same team leaders will be the caretakers of the device and will ensure that it is shared between 4-5 families in their barangay. The residents could not contain their joy and excitement upon receiving this gift, for they solely depend on shallow wells, whose water is most often contaminated, and buy drinking water from a station far from their area.