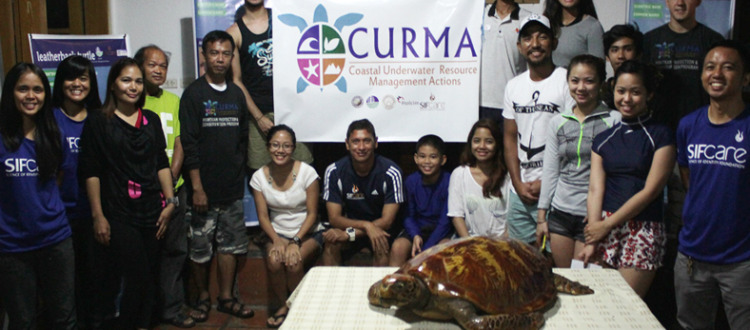 SIFCare-CURMA Conducts Basic Sea Turtle Conservation Workshop
As part of the SEA CAMP 2015 of The Environment Law Society of Ateneo, the key members of the organization including some of friends and management staff of Flotsam and Jetsam Resort participated last October 10 and 11, 2015 for the Basic Sea Turtle Conservation Seminar-Workshop held in San Juan, La Union.
The Seminar-Workshop was organized by SIFCare-CURMA with the assistance of local coastline patrollers and volunteers. Seminar concepts presented were on 'Ridge-to-River-to-Reef Connectivity', 'Sea Turtles found in the Philippines', 'Legal Framework on Sea Turtle Protection and Conservation', 'Standard Protocols when Finding a Sea Turtle Nest'. In the latter part of the Seminar-Workshop, the participants witnessed a demonstration on the proper steps to follow when a sea turtle is found and the proper handling of sea turtle eggs when moving them to the hatchery. The participants also had a simulation workshop after the demonstration for them to personally experience how to correctly deal with sea turtle nests.
As the start of sea turtle-laying season this year, through the committed volunteers and stakeholders of SIFCare-CURMA, the first 2015 Basic Sea Turtle Conservation Seminar-Workshop has made the participants understand the value of the sea turtles and its importance of their protection and conservation. This made the participants give wonderful testimonies to further share the message of awareness and commitment in being stewards of sea turtles.
TESTIMONIALS

Raffy Castillo, Flotsam and Jetsam Resort
The whole program made me realize what is the importance of the sea turtles, and imagine doing this every single day, so we were really thankful of SIFCare-CURMA for giving us a glimpse of what they really do even though we didn't find an actual nest, the whole thing makes you realize how important you guys are doing and made us also realize that all of us need to do our part, so it made me realize that we're really going to be the ones affected if we don't start doing something now.
Avril De Torres, President of ELSA
First we want to say thank you to everyone who helped organize this, we are really thankful of SIFCare-CURMA, we didn't know that the activity will be this elaborate, this interactive and very informative, but coming here today and experiencing this whole seminar I realized now why it's important, and now we understand why you have to explain it further, why you have to explain what actually happens during the whole cycle and what the communities are doing to protect them. It's not really as simple as just walking by the beach and you look for turtles, it's actually an elaborate thing, and when you find a nest it's actually a tedious task. So we're really thankful for this for it really gave us a new perspective, and we're really thinking of having more ways to make this a bigger project next year, to ensuring that people will go. I hope you continue pushing for this advocacy and we assure you that we're here, if you need anything, and if you need a research for participants or volunteers, we're just a message away. And we hope that you become successful in expanding this to other communities.
Dzi Gervacio, ELSA
This event, this preparation was very good, and we really weren't expecting that it would be this elaborate, because we had the idea of 1-hour talk, and 1-hour walk by the beach then we'll see eggs and they would walk to the shore and to the ocean, but then it was more than that. I think this shows a lot more meaning of how the turtles are and how they live. And we were also talking about how the videos really touched us, as in we were getting teary eyed, especially that part from the Pawikan story that they said they "hate Manila Bay, because it was dirty and it was their home, or it was their way home". And it puts a lot of things in perspective that would give people more awareness to how they are and how they live, and with the awareness we understand and then we appreciate more of the environment. We really thank you, SIFCare-CURMA for arranging this. And we're really looking forward of having more projects with you guys every year at least once every semester.
Lara Basa
Thank you for inviting us. It's also not what we expected, and what I can say is, it's amazing to know how awesome the turtles are aside from the hatchlings being adorable, but what really struck me after what we experienced, after the digging, after the long walk, is how some people could be so dedicated about an advocacy like this, so good experience.
Paula Ocampo
Thank you for SIFCare-CURMA for really sharing the knowledges and your experiences in really protecting and conserving the sea turtles and with that if given the chance we are very willing to volunteer because I've known about the sea turtles before but I don't really know their importance with the biodiversity. So with that thank you and good luck with your future endeavors with this organization.
Jessica Rodriguez
I don't really think about what's happening with our ecosystem and the situation with the pawikans so thank you for giving us this opportunity to learn and to be educated about what's going on. So good luck with your future endeavors also. Thank you CURMA for this opportunity.