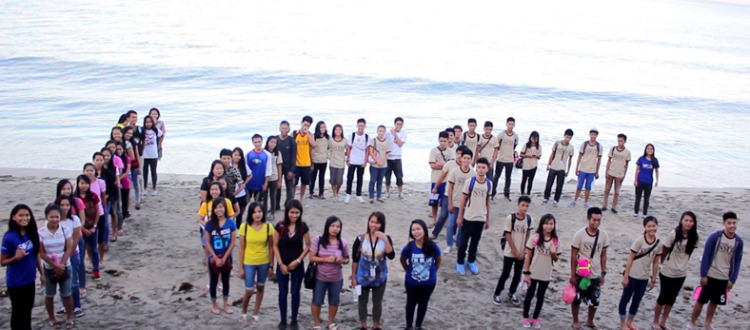 More than 10,000 Volunteers : SIFCare Unites La Union for ICC
"Alone we can do so little, together we can do so much." – Helen Keller
"Individual commitment to a group effort–that is what makes a team work, a company work, a society work, a civilization work." – Vince Lombardi
More than 10,000 volunteers from 84 barangays and 32 different groups from La Union schools and organizations  participated last September 19, 2015 for the International Coastal Clean-up Day. A total of at least 18,000 kilos of trash was recorded from the river and coastal haulings.
The clean up organized by SIFCARE with the assistance of the Rotary Club of San Juan headed by Sangguniang Bayan Member Reginald Nang, Department of Education (DepEd), Department of Environmental and Natural Resources (DENR), and Local Government Units (LGU). It included both coastal and upland communities where rivers pass since it was identified that one of the major cause of ocean and coastal trash is from estuaries or river. Before the ICC Day, volunteers of SIFCARE oriented groups from Agoo to Bangar in preparation for the provincial clean up. The volunteers were from primary and secondary public and private schools, colleges and universities, Rotary Clubs, Lions Clubs and Knights of Columbus of La Union, government agencies, barangay councils, 4Ps and other civic sector organizations.
Due the commitment of the volunteers, the 2015 La Union report has surpassed in great lengths the record of last year with only 400 volunteers. Another milestone reached this year for ICC is the commitment of some volunteer groups to conduct weekly coastal clean-up as group service towards Mother Earth.
TESTIMONIALS:

Hon. Reginald Nang, Sangguniang Bayan Member and Rotary Club President of San Juan
"I feel so glad to see other people working for Mother Earth. Especially since they are doing it voluntarily without any remuneration, and without expecting anything in return."

"It is so heartwarming to see those people working for our environment. The ICC 2015 has impacted not only to our present time but also to our next generations, so that the next generations will still see the beauty of the present environment that we are enjoying now."
Gerry Reyes, Philippine National Coordinator - ICC
"We really appreciate SIFCare's dedication and  commitment for the good of our ocean environment. More power and projects for SIFCare."

Gino Osvi Mabalot, San Juan MDRMMO
"When I see other people cleaning side by side, picking up the trash, I feel confident that through the efforts, mostly of the youths, we could have a big impact in saving oceans, and coastal communities."

"I learned that it would take a heart of a volunteer to make something possible and successful."

"Everything's possible if you put your heart and mind into it. Go volunteers."

"I want to thank the SIFCare, for being the true heroes of San Juan. Through your foundation, luminis, gumanda, lumawak yung ating coverage of concern even outside our municipality. Thank you very much."
Jacquelyn Celso, Interact Club Adviser of Bacnotan National High School
"Let's be aware, let's open our eyes, and let's take action to the problem that already exist and will continue to exist if we don't take action."
Amelia Bacani, Brgy. Captain of Naguituban
"Natutunan naming na madisiplina ang tao na maglagay sa tamang basurahan tsaka maglinis sa kapaligiran."
Kimberly Libadia, Holcim La Union
"I realized that with this experience we can bring back the environment and at the same time the support of the community are still there and they are still concerned with the environment"

"On my own personal life I can segregate my garbage at home and at the same time I can influence other people by doing that."

"To everyone let's take care of our environment we all depend on the environment, so now it's already time to care for the environment"