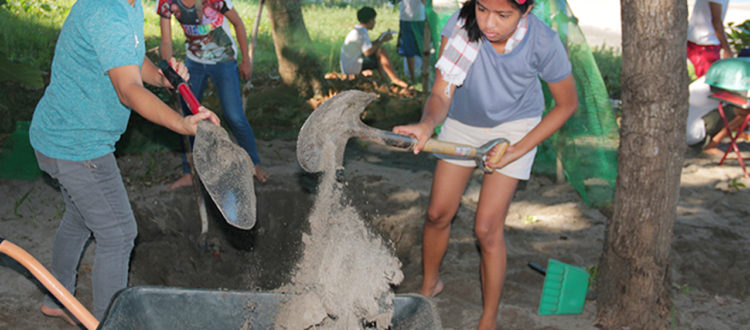 Wonderful Teamwork at the CURMA Hatchery
Our CURMA hatchery is up and ready! Equipped with shovels and pails last October 7, 2017, CURMA volunteers cleared loads of sand from the hatchery to prepare for the annual Pawikan (sea turtle) nesting season. It took them two (2) hours to take out the used sand and another two (2) hours to fill up the hatchery with fresh sand. Rebuilding a hatchery is truly hard work as this literally involves heavy lifting. But CURMA volunteers demonstrated wonderful teamwork which made the job easier and faster!
The hatchery rebuild is done every turtle season to ensure that fungus and bacteria from the remains of unsuccessful eggs and dead hatchlings from the previous season, will not invade the present nest. If sand is not replaced every season, this can lower the probability of hatching success so the old sand is replaced with fresh, moist, high- tide sand best suited for the eggs. The hatchery is also cleared from excessive amounts of roots and creeping beach vine that could affect the eggs or obstruct hatchlings on their way to the surface.
Snacks were served around 11 AM to close off the activity. Thank you to all the volunteers from San Juan National High School and San Juan Senior High School for putting care into action!