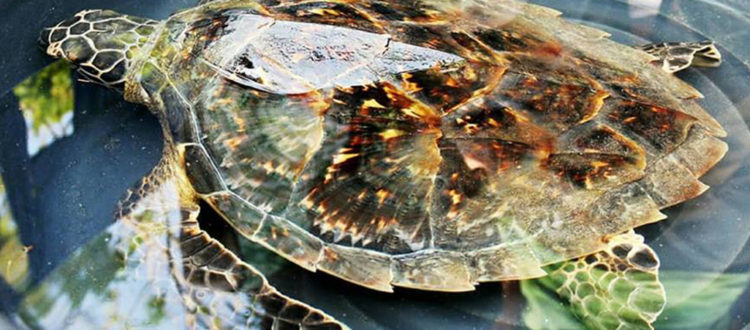 Trapped Hawksbill Turtle Released
A young hawksbill turtle got caught in the net of a fisherman yesterday in Pandan Bacnotan, La Union. Armando Ramos had been fishing near the coral reef when he noticed the sea turtle near his boat. He was a recipient of the recent information drive about what to do when finding a sea turtle and quickly reported it.
Hawksbill turtles are critically endangered and are usually found near the reef where they feed on sponges, sea urchins and jellyfish. Their carapace (shell) is beautifully colored with serrated edges. They have a narrow head and a sharp beak, resembling that of a hawk.
Away from all the bright lights and noise, we have discovered Bacnotan la Union, to be a haven for sea turtles. With both sandy beaches and coral reefs providing ample nesting and feeding areas. Efforts are now underway to be able to preserve this marine ecosystem.
We have trained all coastline barangay officials of Bacnotan on how to protect the sea turtles. With a very supportive Mayor Francisco Fontanilla and a caring and hardworking group of barangay and municipal officials, the town of Bacnotan has a great chance of remaining a marine sanctuary. There is already a friendly competition going on between barangays on who has the most turtles/turtle eggs found.
This young hawksbill turtle had the great fortune of being caught by a fisherman who knew of their importance. We promptly released her back into the water so she can return to the nearby coral reef.
With proper knowledge and by having actual care, we can live harmoniously with all the living entities around us and preserve this planet we call home.
🐢
(Pictured Kap.Sheri Dienzo, Kgwd.Romeo Murao, Rogelio Quinque, Atonio Velasco, Sec Maribel Vega, Tanod Benjamin Abella, Curma Coordinator Carlos Tamayo, OIC Municipal Agriculturist Dra. Divina Gracia Apigo.)