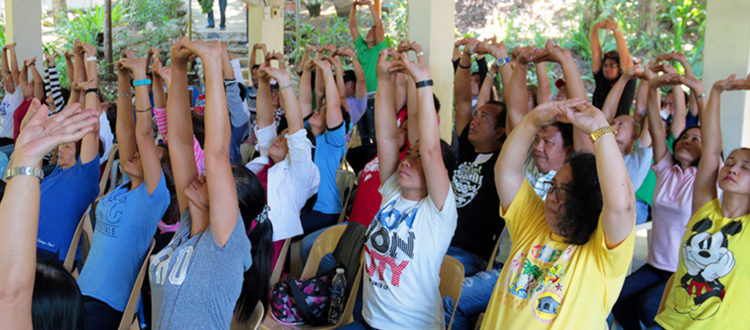 Unique Celebration of San Fernando, La Union Staff Hosted by SIFCare
The Science of Identity Foundation Community Assistance for Responsible Existence (SIFCare) was tapped by Ms. Tessa Ferraren, HR Head of the provincial Government of San Fernando, La Union to host a much needed rejuvenation celebration for their birth month celebrators as part of their Staff Development program. For the last ten years, the birth month celebrators had their events at the premises of the provincial Government in San Fernando, La Union but this year Ms. Ferraren, together with Mr. Ramon Tamayo, consultant of the PGLU for Environment, had a different idea.
All celebrators for January trooped to the Lotus Valley Farm in San Juan, La union, cared for by Mr. Tamayo, who toured them around his biodiverse, ago, forest farm. This opened their eyes to the beauty of natural surroundings and enriched their knowledge in environmental care. They were able to see for themselves the variety of medical plants, rare trees, a bamboo collection and climatic responsive structures built around the farm.
Ms. Dixie Palmos, an acupuncturist of ITRMC (Ilocos Training & Regional Medical Center), then shared with them self-massage techniques. They learned how to easily get quick relief from aching muscles, headaches, even sickness brought by daily stresses in life.
Ms. Kristine Tamayo, a certified yoga instructor and lifestyle coach guided them through simple yoga exercises and sound meditation that can be done anytime and anywhere.
SIFCare CEO, Ms. Soccoro Bismark, enlightened the celebrators on techniques to control the mind so that one can control emotions and stress that eventually lead to imbalance and unhappiness.
Ms. Ramona Morato, a SIFCare volunteer with extensive experience in food and restaurant management, taught them how to prepare easy to cook healthy plant-based dishes.
To top it off, lunch was a feast of plant-based goodness, served kamayan-style al fresco! The whole experience was refreshingly new and invigorating for the celebrators, at the same time, relaxing! They learned various ways to properly nourish not only the body and mind, but also the soul. Now they are equipped with the tools and knowledge needed to have many more healthy and happy years ahead!