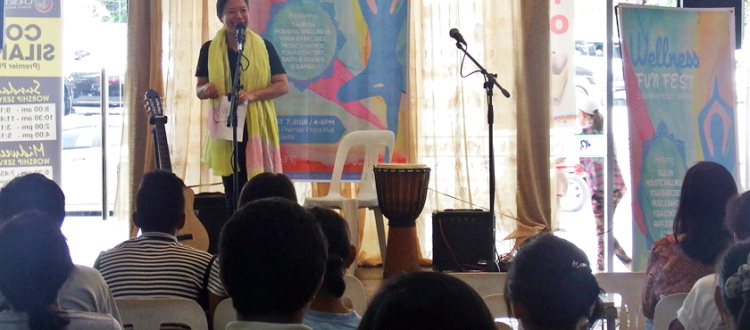 1st SIFCare Wellness Fun Fest Held
Science of Identity Foundation Community Assistance for Responsible Existence-SIFCare, in cooperation with Premier Plaza Leasing Corporation, held its first WELLNESS FUN FEST last August 7, 2016 at Premier Plaza Mall, Silang Cavite. SIFCare organized this event in order to motivate people to adopt and embrace holistic wellness in their lives and thus, continually experience joy, peace and happiness.
Wellness Fun Fest was graced by highly qualified speakers and performers.
Ms. Lalita "Lali" Balagtas briefly introduced SIFCare and its basic principles and programs. Lali is the present officer-in-charge of SIFCare.
Dr. Nash Tamayo talked on holistic wellness and how he is applying it all his life. He is a vegetarian from birth and now a military doctor. Dr. Nash just came home from deployment with the United Nations in Haiti.
Mr. Herschel "Bubot" Tolentino shared his song entitled, Cellphone. At the beginning, Bubot said, "This song is about how economic development and advancement in technology affects our consciousness, our behavior, and our health." Bubot, who is the leader of the alternative rock band, Bio-spark, also led the singing of Rest Peacefully and introduced group yoga sound meditation.
Ms. Jamuna "Yogajam" Amowas taught yoga asanas with their benefits. She also guided the audience in the yoga sound meditation with deep breathing for stress relief and relaxation. Yogajam is a certified Veda yoga instructor and a biologist by profession.
Mr. Benhur Potian headed the fast beat yoga dance that rocked the mall. Coach Benhur is a multiple and versatile fitness/wellness advisor, a physical education teacher, a 4th dan black-belt taekwondo instructor; a yoga asana, shibashi and zumba mentor.
Games, raffle draws and the partaking of the healthy food and drinks made the whole event more fun and festive.